Pure Data Montréal Users Group
Groupes d'utilisateurs PureData Montréal
Le groupe d'utilisateurs de PureData de Montréal se réunit régulièrement à Montréal. C'est l'occasion d'assister à des présentations sur des sujets tournant autour de PureData, l'audio, la vidéo, la programmation, l'art, l'informatique libre, l'électronique et bien plus. PureData est pour nous un outil pour faire de l'art numérique.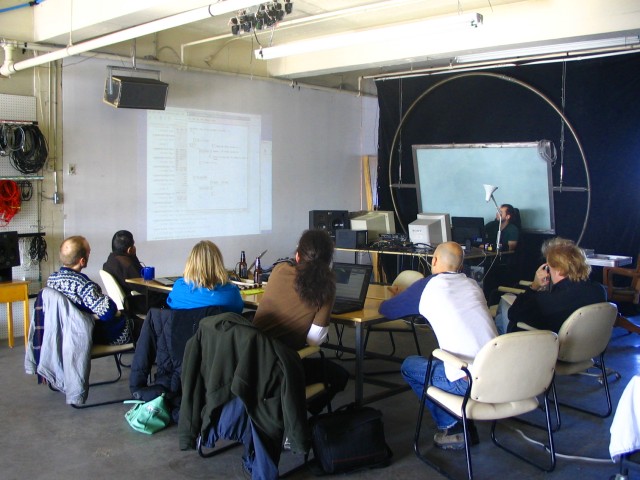 Pour en savoir plus sur PureData, voir http://fr.wikipedia.org/wiki/Pure_Data
L'ancien site de PdMtl est http://artengine.ca/pdmtl/
Mailing list
Please do not hesitate to subscribe to the mailing list if you are interested in PureData and live somewhere around Montreal-Quebec-Canada or want to discuss about it in french. Both french and english are used on this list.
N'hésitez pas à vous inscrire sur la liste de discussion courriel. Pour ce faire, aller à l'adresse ci-dessous. Les archives sont disponibles en ligne. Les usagers de la liste utilisent le français ou l'anglais.
http://ns.artengine.ca/mailman/listinfo/pdmtl
Meetings
Here is the list of the former PdMtl meetings. Some have pictures. You will find the original invitation text with some info about the topics discussed.
Voici la liste des textes d'invitation pour chacune des rencontres PdMtl. Parfois, des sous-items vont lier vers le courriel original sur la liste de discussion, ou vers une page de photos de ladite rencontre.
Current projects
Projets potentiels
ParticipantEs
---
Outils collaboratifs
À propos de ce wiki
How to
Vous pouvez créer des sous-pages en collant des mots qui commencent par des lettres majuscules ensemble et en les précédent de ceci: ./
Tout ce qui a trait à PdMtl devrait être dans cette section du site. Les sujets d'ordre plus général, comme l'électronique ou la musique peuvent avoir leur propre page à la racine du wiki. Les sous-pages sont séparées par un slash ( / ). Voir SyntaxReference et HelpOnEditing
Feel free to write in english or in Tcl... Ce wiki est bilingue, comme Montréal.
SVP vous créer un nom d'usager si vous voulez éditer ces pasges de wiki. Ça rend le traçage de qui a fait quoi plus facile, et on ne vous prendra pas pour du spam !
Si vous avez des questions ou des plaintes, contactez AlexandreQuessy, mais nous ne sommes pas responsable du contenu que vous metterez dans ces pages.
Voir aussi WikiFaq
PD objects
You can create pages about PureData objects. Write the word CategoryPdObject at the bottom of the page. Click on the CategoryPdObject WikiName to see the list of all pages about Pd objects. It is not intended to become an encyclopedia. It is mainly for tricks for Pd users to keeps and share on a wiki. An example of this is the page on comport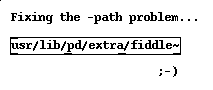 IRC chat channel
Il existe un canal IRC sur irc.freenode.net qui se nomme #dataflow . Un bon client IRC est xchat et fonctionne sur plusieurs systèmes d'exploitation. Voir la page DataFlow pour une liste partielle des participants.
Join us on the channel #dataflow on irc.freenode.net . If you want a good IRC client, try xchat. See the page DataFlow.
[Description Libra]
---